Fortune magazine recently gave Barcelona the title of "most wired city in the world". As a company with one of our headquarters in the city, we're proud of the many amazing things going here. Here are five things that explain why Barcelona is a smart city - and one that we're proud to form part of!
Citywide wifi
Lots of cities today have wifi services, but Barcelona is a frontrunner on the wifi movement. In 2013, the city had a huge push to increase the number of wifi hotspots. The results is a system that today covers nearly the entire city.
Now, Barcelona has hundreds of miles of fiber optic cables that connect the city. There are plans to have free wifi available on buses, the metro, and in markets. It can already be accessed in parks, squares, and libraries. Over a quarter of a million people access the free citywide wifi every month.
Connected citizens
Barcelona is one of the cities with the most smartphone penetration, so the local government created a series of apps to help residents. Residents in Barcelona are able to get the information they need about specific city services using these apps.
Some include Apparkb, which is used to help residents figure out where they can park legally, Points of Interest to locate services near them, and Map Barcelona + Sustainable, which highlights initiatives to make the city more eco-friendly.
Sightseeing locations like Parc Güell and events like La Mercè festival also have apps with specific information for both locals and visitors to enjoy.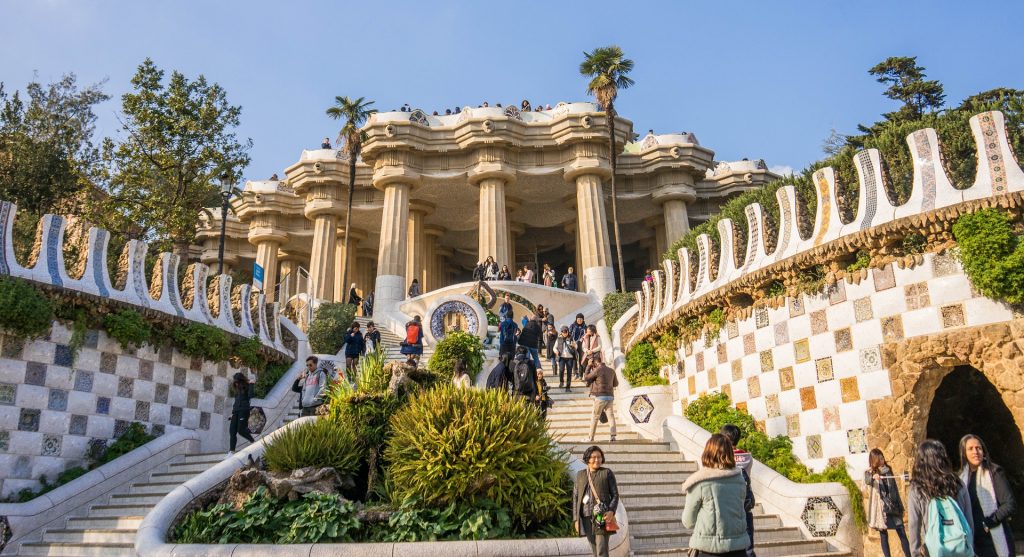 Exciting technological events
Every year, we are fortunate enough to attend some of the top technological events in the world right here in Barcelona, including the Mobile World Congress, the IoT Solutions World Congress, and the Smart City Expo. Our team here at Bismart also regularly hosts events in Barcelona with our partner Microsoft.
There are so many opportunities in Barcelona to be on the cutting edge of what technology can offer the cities of the future. Find out which events Bismart will be attending in upcoming months. We hope to see you at one of these events soon!
Internet of Things innovation
Starting all the way back in 2012, Barcelona began implementing IoT technologies to help improve life for citizens. That includes things like sensors to manage parking, street lighting, and even trash disposal services. In total, there are over 19,500 of these sensors.
One area that has seen much improvement thanks to the smart sensors is transportation, including streamlined bus routes, information about when and where buses will arrive, and information about available parking spaces.
The smart street light sensors not only incorporated new LED technology to reduce consumption, but they also detect when there are no pedestrians around to dim. This has led to 30% energy savings, a savings of over $37 million each year. These sensors can also collect air quality data to helps governments and administrations better deal with the issue.
Not only can residents enjoy a higher-quality living experience, but the city has also reduced costs significantly and streamlined operations.
Innovative environment
Did you know that Barcelona was chosen over 29 other cities as the Mobile World Capital? That's because the city has a thriving technological sector and excellent mobile connectivity.
Our Barcelona office is in the epicenter of technology in Barcelona: the Poblenou district. This is also where you'll find 22@, the innovation district. Leaders, decision-makers, and technology experts come together to come up with new solutions to make the city smarter than ever. On top of that, there's a strong startup scene with cutting-edge ideas being generated every day.
Why do so many technology companies choose Barcelona? A few reasons include that the city is a well-connected transportation hub, world-class technical universities, and has an environment that promotes creativity and forward-thinking.
These are just five reasons why Barcelona is a smart city, and there are plenty more. Bismart is proud to form part of this dynamic and innovative smart city.
Discover our solutions designed for smart cities like Barcelona, and get in touch if you'd like to arrange a meeting with us in Barcelona.