Big Data is all around us. Lots of companies are coming up with amazing ways to take advantage of the data and technology to provide fun, insightful products and services to consumers. While Big Data is useful for a solving plenty of serious problems – think medical breakthroughs, artificial intelligence, communication services, etc. – companies are also getting really creative to use it for a huge range of things. Today, Big Data can be processed by algorithms to enhance consumers' lives in really cool, fun ways! Here are some of the coolest ways companies are using Big Data right now.
5. Spotify
Spotify is one company that has truly embraced Big Data. They use many innovative data techniques to revolutionize how we consume and enjoy music. The company, with over 100 million users, is a completely data driven company. They use intel about factors like songs' play time, where they are being streamed, what kind of device is streaming, and when they are being played. All that information is providing the music-tech industry with fascinating insights to impact listeners' experience.
Spotify recently launched Spotify for Artists, which gives artists and their management access to data so they can improve their marketing and content. Spotify is also using big data for its "fans first" initiative. This allows artists to give their most dedicated fans access to special offers on concert tickets, gear, singles, and more.

4. eHarmony
Dating companies like eHarmony are using Big Data to increase clients' chances of finding love. And some of the statistics they use may be surprising. In the past, dating websites used surveys or personality tests to determine peoples' preferences. Then, they used algorithms to match people that would have a high percentage of hitting it off.
Now, with Big Data in the mix, those same companies, can use even more detailed factors to match likely coupes. Wearables can record data such as sleeping patterns, heart rate, and physical activity levels. These can all important factors when picking a perfect partner. While someone might self-report that they are "extremely active" or "not a night owl", dating apps can sort through their actual data. This lets them determine not only a pair's suitability, but also whether they are honest about their own habits. Then, they can use this data to make better matches.
3. Snow Leopard Trust + Nature Conservation Foundation
Another great way Big Data is being used is to save rare animals by tracking and catching poachers. Specifically, it's being used to save tigers in India.
Poachers travel in small, nomadic groups tracking their prey, something that in India has made them hard to nab. Tiger bones are valuable for traditional Chinese medicine, so Indian tigers are worth big bucks. The Snow Leopard Trust and the Nature Conservation Foundation worked together to fight the problem. They collected and analyzed data from as far back as 1972 across 605 districts in India. Using Big Data analysis, they can project where and when poaching is most likely to occur.
Better still, through the use of wearable trackers, ecologists and record even more data points. This lets them hone in more accurate tracking in the future. This is just one example of how Big Data can be used to fight crime and poachers.
2. Magic Mirror
Big Data can also be used to help shoppers have a totally new experience. Our own Magic Mirror not only works as a regular mirror, but also gives shoppers personalized recommendations for items they might like. It can analyze their expression, their mood, and their personal style to give them this information.
On top of that, Big Data correlates their own personal purchase history with things like preferences, socio-demographic information, and more. The mirror gives shoppers the perfect product that they won't be able to resist buying! You can find out more about Magic Mirror here.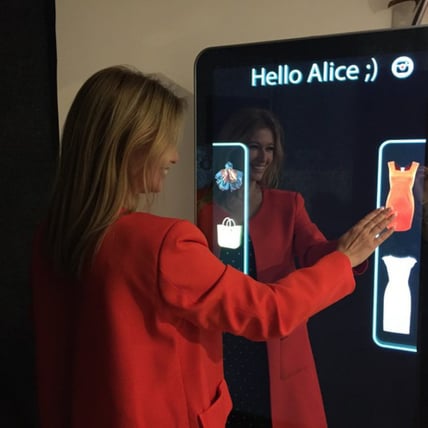 1. Games
Big Data is great for games. Remember "Choose Your Own Adventure" books? Well now, with Big Data and artificial intelligence, we can interact directly with storylines that will anticipate how we'll make decisions. Think about playing chess with a computer that consistently learns from your moves. The computer gets smarter with every move and remembers how you played in the past.
This is great for training in a variety of settings! But from a more fun perspective, Big Data is being used for video games to consistently get more challenging. Train with the computer on your favorite board game or puzzle and imagine how much better you will be than your human counterparts at the next cocktail party.
These are just some of the fun ways that companies are using Big Data. There are lots more out there - tell us about your favorite one in the comments!
Did you like reading this article about ways companies are using Big Data? You might also enjoy:
Get in touch with us today if you'd like to see what Big Data can do for your business!